Posted on
By Josée Bournival
Diesel is a prestigious brand. Around the world, it's 5000 points of sale and 300 brand stores in over 80 countries. That is, to say the least, quite impressive considering that its founder Renzo Rosso is an Italian farmer's child who designed his first pair of jeans at the age of 15. Because denim is […]
Diesel is a prestigious brand. Around the world, it's 5000 points of sale and 300 brand stores in over 80 countries. That is, to say the least, quite impressive considering that its founder Renzo Rosso is an Italian farmer's child who designed his first pair of jeans at the age of 15. Because denim is very rigid, he got the idea to rub it on the concrete at the family farm. And so was born the signature look of the Diesel jeans.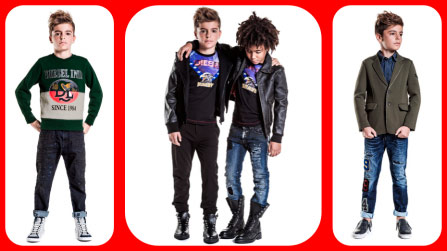 After having conquered the adult wear market, Diesel kid was founded. The kids line is directly inspired from the essence of the adult version: laid-back, rebellious and provocative.
Ever since its creation in 1978, Diesel is still the leader in the denim world. Even though the brand carries much more than blue jeans, it remains the item of choice and accounts for 40% of its sales revenue. But don't you go on thinking that this is the only thing Diesel has to offer! The kids collection is an array of pieces that are both punchy and in vogue.
« I had a crush on Diesel, confided Caroline, owner of L'Enfantillon. Their clothes are always in good taste.» She aptly pointed out to me that the collection is truly versatile. Put together with a stylish sneaker shows a very urban feel. And if you choose a chic ballerina shoe for girls, you get a look that is just as interesting. A look that can easily be taken from the schoolyard to the Sunday family brunch.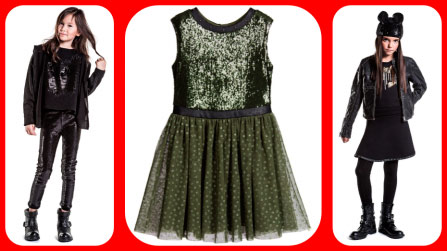 Caroline was ecstatic to be finally able to offer samples from this prestigious brand. Starting on August the 8th, you will find over 200 articles on sale in sizes 6 months and 8 years old, for boys and girls.
I must say I was quite curious to see the collection in advance. I insisted, just a bit, to be able to show you a few pieces in advance… Watch this!
If you want to take a sneak peek at the fall/winter collection, I have set up a Pinterest board for you to see.
I am pretty certain that my cutie Clémentine is gonna go crazy over the pieces with sequins. Once a princess, always a princess, even dressed in Diesel!