Posted on
By Josée Bournival
Personally, I developed a crush on Billieblush even before seeing the pieces in person. I was seduced by the images buzzing around on the Web. It's a young company that launched in 2013 and is already making a solid mark in the ready-to-wear clothes for young girls. For 3 seasons now, L'Enfantillon owner, Caroline, has […]
Personally, I developed a crush on Billieblush even before seeing the pieces in person. I was seduced by the images buzzing around on the Web. It's a young company that launched in 2013 and is already making a solid mark in the ready-to-wear clothes for young girls. For 3 seasons now, L'Enfantillon owner, Caroline, has been offering her clients the brand and has gotten truly positive feedback time and again.
Its style is very actual, slightly irreverent and always feminine. I mostly appreciate the delicate details and polished dressmaking of the pieces. Not only do the clothes are pleasing to a mom's eyes, but they are also comfortable for the kids. Ease of movement does not come at the cost of appearance. I find that to be an important detail since kids tend to prefer to wear clothes that have a level of comfort that matches their own active lifestyle.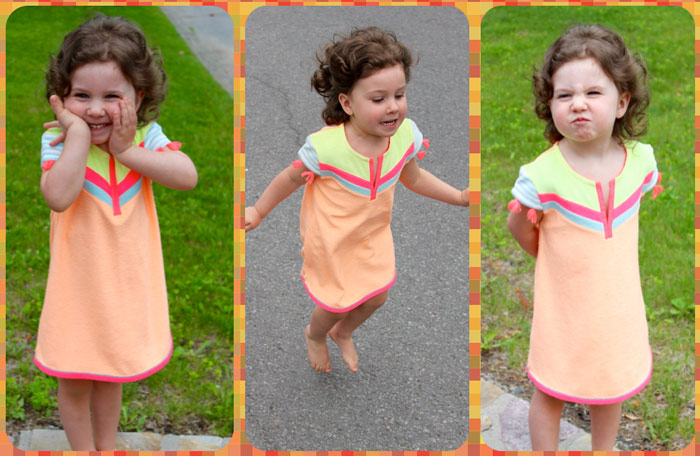 At L'Enfantillon maternité, you will find samples in 6 months and 4 years sizes. The perfect size for my Blanche! I was absolutely delighted because Blanche's personality is totally in tune with the brand: rascally, stylish and playful. Even a little, dare I say, mischievous.
Billybandit is the other one's little brother. The brand was born in 2014 and has a modern cowboy feel.
The male brand is a little more « behaved » than its female counterpart, but it still delivers great style. Especially for the tops, since they are often decorated with crazy graphic prints. As with Billieblush, Billybandit is a very trendy brand.
You will find in store samples in 6 months and 6 years sizes.
Billieblush and Billybandit are offered at a reasonable cost. The main objective of the brand was to create trendy yet affordable lines.
Just so you can get a taste and feel for the brand, I set up a Pinterest board. Go over there and check it out. I even put in the 2016-2017 fall and winter collection.
Which makes me curious… what do you think of these brands? Are you thrilled about the fall-winter collection coming to L'Enfantillon?